Relevance of H. Skovoroda's ideas on out-of-school ecological and naturalistic education of schoolchildren with intellectual disabilities
Keywords:
H. Skovoroda, ecological and naturalistic education, intellectual disabilities
Abstract
The article analyzes the pedagogical heritage of the outstanding Ukrainian pedagogue, philosopher, writer Hryhoriy Savych Skovoroda through the prism of correctional education and training of students with intellectual disabilities in out-of-school ecological and naturalistic education. It is established that the principles of knowledge and activity, clarity, consistency and systematicity, "kinship", accessibility and learning through hard work acquired by H. Skovoroda acquire special significance for this group of children. This is due to the fact that in the process of acquiring knowledge of children with persistent, irreversible intellectual disabilities special pedagogical techniques that partially correct the shortcomings of their analytical and synthetic activities and promote intellectual, physical and social development of these children should be used. Involvement of students with intellectual disabilities in creative associations of ecological and naturalistic direction of out-of-school education allows realizing compensatory, rehabilitation and career guidance functions. In the process of obtaining environmental and naturalistic education at the primary and basic levels, these children can acquire the basic professional knowledge, skills and abilities necessary for their socialization, further self-realization and professional activity. Thus, the opinion expressed by H. Skovoroda about the exceptional role of learning and mental development of each child, based on experience and practice; taking into account in the educational process the interests, aptitudes, abilities and capabilities of children, acquires special significance today in the context of extracurricular education of students with intellectual disabilities.
References
Андреєва Т. Т.Питання екології людини в творчості Г. С. Сковороди в історичному контексті // Молодий вчений. 2016. № 9.1 (36.1). [Електронний ресурс]. Режим доступу: http://molodyvcheny.in.ua/files/journal/2016/9/1.pdf
Артемова Л. В. Історія педагогіки України. Київ : Либідь. 2006. 105 с.
Бондар В. І. Особливості формування трудової компетенції розумово відсталих учнів : навч. посіб. / В. І. Бондар, К. В. Рейда. Київ : МП Леся, 2010. 168 с.
Навчальні програми з позашкільної освіти еколого-натуралістичного напряму: еколого-біологічний профіль ; за заг. ред. д-ра пед. наук В. В. Вербицького]. Київ : НЕНЦ, 2018. 708 с.
Про позашкільну освіту : закон України, 2000, № 46, ст.393. Редакція від 22.05.2021.[Електронний ресурс]. Режим доступу: https://zakon.rada.gov.ua/laws/show/1841-14#Text
Сковорода Григорій. Твори в двох томах. Т. 1. Київ : Вид-во АН УРСР, 1961. 532 с.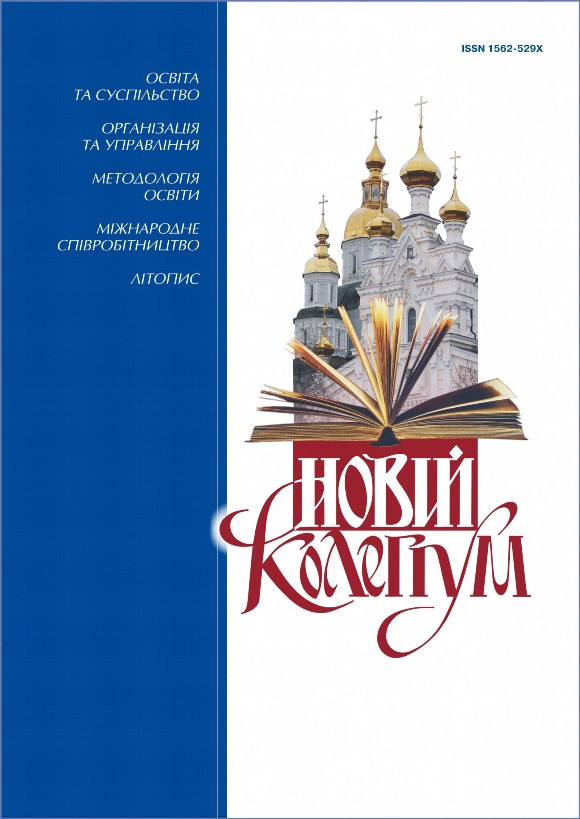 Downloads
How to Cite
Kovalenko, V. (2022). Relevance of H. Skovoroda's ideas on out-of-school ecological and naturalistic education of schoolchildren with intellectual disabilities. New Collegium, 4(109), 55–58. https://doi.org/10.30837/nc.2022.4.55