Environmentality as a principle of education in the pedagogical experience of S.I. Miropolsky
Keywords:
principle, nature conformity, Myropolskyi, Skovoroda, personality, child, upbringing
Abstract
The issue of the formation of a personality in childhood has always been relevant and caused a number of studies on the scientific research of scientists, observations and practical findings of teachers and educators both at home and in educational institutions. The importance of the child's abilities, inherent to him/her by nature, in the educational process is undeniable, and their development has a unique practical experience that needs to be studied and generalized in order to successfully adapt the child to society after completing the training.
One of the brightest figures in the history of pedagogy on the study of an individual approach to a child is Serhii Iryneyovych Myropolskyi (1842-1907), who held the point of view that the upbringing process is not leading in the formation of the child's personality, and the main drivers of development are natural abilities that need to be studied and explored in each child, and then, focusing on personal qualities and abilities, build an individual approach for the individual personal educational trajectory of each student.
The article notes the formation of the pedagogical views of S.I. Myropolskyi in the conditions of the late 19th – early 20th centuries and on the basis of the philosophical and pedagogical teachings of Hryhoriy Savych Skovoroda about nature conformity as the leading principle of educating a child's personality. The requirements of S.I. Myropolskyi to the educational process on the basis of taking into account his practical experience in educational institutions. The teacher's knowledge of the child's personality, his personal qualities and abilities, as well as the types of temperament are clarified and generalized. The attitude of the scientist to the teacher as a flagship for ensuring the personal physical, psychological, moral and intellectual development of each child is revealed. In addition, the article reflects that the observance of the principle of conformity to nature, the ability to take into account the age and individual abilities of students is a requirement for the teacher. At the same time, the teacher must have a number of competencies, observe the impartial rules of tolerant behavior in order to develop the natural abilities of everyone.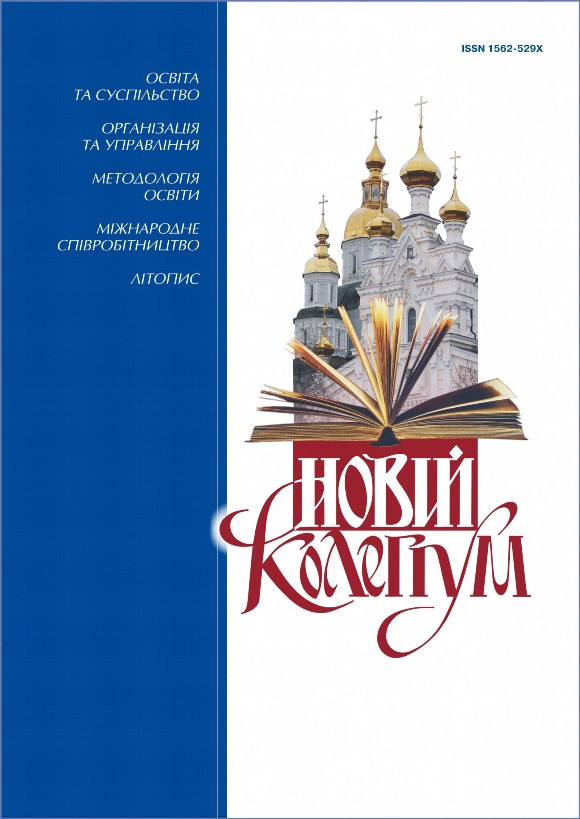 Downloads
How to Cite
Zolotukhina, . S., & Bashkir, O. (2022). Environmentality as a principle of education in the pedagogical experience of S.I. Miropolsky. New Collegium, 4(109), 49–54. https://doi.org/10.30837/nc.2022.4.49