Foreign Languages in the System of Continuing Education (Experience in Development and Implementation of the Author's Model)
Keywords:
competence, competence-based approach, ntinuing language training, integrated department
Abstract
The paper covers the history of Foreign Languages Department of People's Ukrainian Academy, whose aim is to provide language training to "Business Administration" and "Social Management" students, paying special attention to the main stages developing its approach to organization and teaching methods has gone through. One of the major steps on this way was the development of the "Integrated Programme of Continuing English Language Training in PUA" which formalized the department's main principles of organizational and teaching activities: competence-based approach, interactive teaching/learning methods, as well as digital ones, authentic teaching/learning materials, streaming, Grammar and Speaking classes, which is not common for non-philological departments. The paper explicates the way competence-based approach entails transformation of in-class language teaching/learning, as well as students' extra-curricular activity. The author makes the conclusion that most practices, principles and approaches seen as experimental at early stages, later have formed the basis of language teaching/learning in PUA, moreover, some of them have already been implemented on the national level in response to formal requirements of the Ukrainian Ministry of Education and Science.
References
Авторская интегрированная программа непрерывной подготовки по английскому языку в Харьковском гуманитарном университете «Народная украинская академия» / Нар. укр. акад. [общеакад. каф. англ. яз. ; сост. : Л. А. Артеменко и др.]. Харьков : Изд-во НУА, 2012. 338 с.
Артеменко Л. А., Полина В. В. Гуманитарная составляющая в процессе обучения английскому языку как второму языку общения // Вчені зап. Харків. гуманітар. ун-ту «Нар. укр. акад.». Харків, 2010. Т. 16. C. 49–55.
Артеменко Л. А. Ответы вызовам времени // Высшая школа Харьковщины: 80-е годы ХХ – начало ХХІ века (воспоминания, интервью, документы) : монография / под общ. ред. Е. В. Астаховой. Харьков : Изд-во НУА, 2020. С.29–39.
Артеменко Л. А. Ретроспективный анализ процесса обучения английскому языку студентов факультетов «Бизнес-управление» и «Социальный менеджмент» в ХГУ «НУА» // Вчені записки Харківського гуманітарного університету «Народна українська академія» / [редкол.: К. В. Астахова (голов. ред.) та ін.]. Харків : Вид-во НУА, 2020. Додаток до 25 т. С. 279–289.
Вузовская кафедра. Особенности функционирования в условиях модернизации образования : монография / Нар. укр. акад. ; под общ. ред. Е. В. Астаховой. 2015. Харьков : Изд-во НУА, 2015. 182 с.
Молодчая Н. С., Хильковская А. А. Интегрированная кафедра как ключевая структура комплекса непрерывного образования (на опыте общеакадемической кафедры иностранных языков Харьковского гуманитарного университета «Народная украинская академия») // Университетско-школьные кластеры. Мировой опыт и перспективы его адаптации в Украине : материалы XVII ежегод. Междунар. науч.-практ., Харьков, 14 февр. 2020 г. Харьков, 2020. C. 128–131.
Прокопенко С. А. Современный университет: от явления к сущности // Профессиональное образование в России и за рубежом. 2016. Т.21, №1. С.72.
Molodcha N., Zobova G., Okhotska T., Rudakova J. et al. 25 years of Foreign Language Teaching at Kharkov University of Humanities «People's Ukrainian Academy» Specialized Economics and Law School: integrating traditions and innovations / executive ed. Yelena Tarasova ; chief ed. Natalia Molodcha ; People's Ukrainian Academy, the Chair of foreign languages. Kharkov: PUA, 2017. 76 p.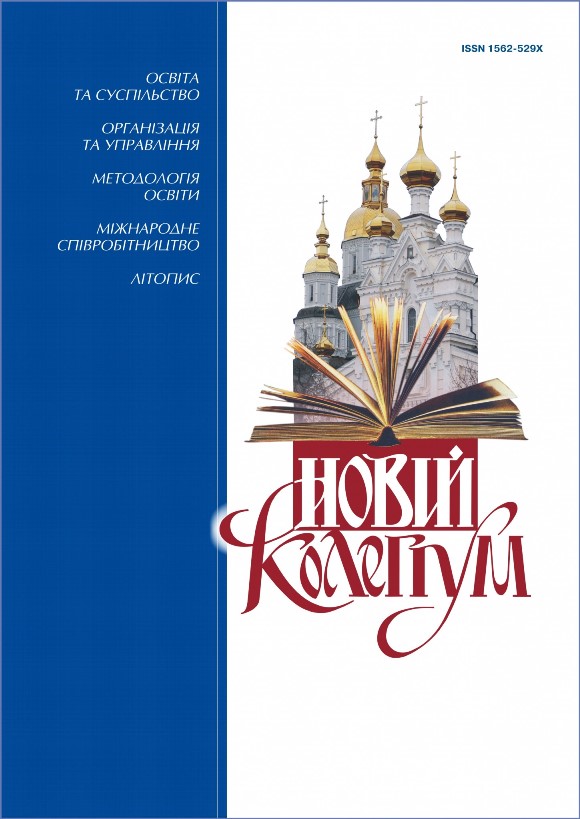 Downloads
How to Cite
Khilkovska , A. . (2021). Foreign Languages in the System of Continuing Education (Experience in Development and Implementation of the Author's Model) . New Collegium, 2(104), 92–96. https://doi.org/10.30837/nc.2021.2.92