Adult Education: Organizational Approaches Under Uncertainty
Keywords:
adult education, postgraduate education, business education, students, ubiquity of education
Abstract
Education, undoubtedly, is recognized as determining the social configuration of each state. Most countries of the world are intensively developing and improving the adult education system as an important element of lifelong learning that ensures the development of society. The concept of lifelong education is viewed as a system of the future, which should become the basis for sustainable development, ensuring stability in society, socialization of a person in a changing social environment. Globalization world processes also have a significant impact on education. At the same time, individual education systems should take into account national and cultural characteristics when developing adult education programs so that universalization is combined with existing diversity.
The article analyzes the main directions of adult education such as obtaining a second higher education, business education and training for people of the third age. The specifics of the adult audience, the specifics of the work of teachers, the content of curricula and teaching methods are considered. When writing the article, the experience of working with adults, accumulated at the People's Ukrainian Academy, which is a complex of continuous education, in which the adult education system is logically inscribed, was used and generalized. The need to improve the national system of postgraduate education is expressed. We are talking about creating a unified regulatory framework for adult education, changing sectoral legislation, optimizing the structure of additional postgraduate education.
References
5 моделей университетов будущего по версии ректора НИУ ВШЭ. [Электронный ресурс]. Режим доступа: http://www.econfin.ru;
Войно-Данчишина О.Л. Расширение возрастных границ обучения как вызов для университетов // Образовательные риски : материалы междунар. науч.-практ. конф., Харьков, 15 февраля 2018 г. Харьков, 2018. С. 86-88;
Войно-Данчишина О.Л. Последипломное образование: smart-подходы к развитию // Smart-образование в smart-обществе: возможные пути адаптации : материалы ежегод. междунар. науч.-практ. конф., Харьков. 14 февр. 2019 г. Харьков. 2019. С. 68-70;
Войно-Данчишина О. Л. Последипломное образование в образовательной системе Украины: особенности и перспективы // Приоритеты развития современного образования: теория, методология, практика : материалы междунар. науч.-практ. конф., Харьков, 17–18 февр. 2014 г. Харьков, 2014. Ч. 1. С. 187–192;
Войно-Данчишина О. Л. Факультет последипломного образования // Дорогу осилит идущий… : монография. Харьков : Изд-во НУА, 2015. С. 337–347;
Галичина В.А. Основные характеристики и тенденции развития образования взрослых в условиях глобализации // Век глобализации. 2012. Вып. №1 (9). С. 104–114;
Береговая О. А. Глобализация и развитие непрерывного образования [Электронный ресурс]. Режим доступа: http://elib.sfu-kras.ru/bitstream/handle/2311/30501/beregovaya_o.a.pdf?sequence=1;
Доклад ЮНЕСКО по науке. На пути к 2030 году. Резюме. [Электронный ресурс]. Режим доступа: http://unesdoc.unesco.org/images/0023/002354/235407r.pdf;
Жить и учиться ради благополучного будущего: важность образования взрослых // Междунар. конф. по образованию взрослых, 2009, Бразилия, Белен [Электронный ресурс]. Режим доступа: http://www.unesco.org/fileadmin/MULTIMEDIA/INSTITUTES/UIL/confintea/pdf/working_documents/confinteavi_annotated_agenda_ru.pdf;
Корчагіна Л. М. Навчання впродовж життя як пріоритетний напрямок модернізації управління освітою в Україні // Теорія та практика державного управління. 2008. Вип. 3(22). С. 326–332;
Крол А. Вечная молодость, образование и кризис мировой финансовой системы. [Электронный ресурс]. Режим доступа: https://medium.com/krol-institute/old-edu-6fde1516c0aa;
Кузьминов Я., Песков Д. Какое будущее ждет университеты? // Вопросы образования. 2017. № 3. С. 210–212;
Марон А. Е. Современные тенденции развития последипломного образования взрослых // Человек и образование. 2007. № 1/2. С. 21–28;
Немного статистики: как украинцы отличаются от жителей других стран [Электронный ресурс]. Режим доступа: http://businessviews.com.ua/ ru/studies/id/nemnogo-statistiki-kak-ukraincy-otlichajutsja-ot-zhitelej-drugih-stran-548/;
Образование взрослых: зачем и как? [Электронный ресурс]. Режим доступа: http://www.znanie.org/jornal/n3_06/Chikurov.html;
Фроленкова Н.А. Освіта дорослих: основні фактори та перспективи розвитку в Україні // Освіта дорослих: світові тенденції, українські реалії та перспективи : монографія. Харків, 2020. С 62-68.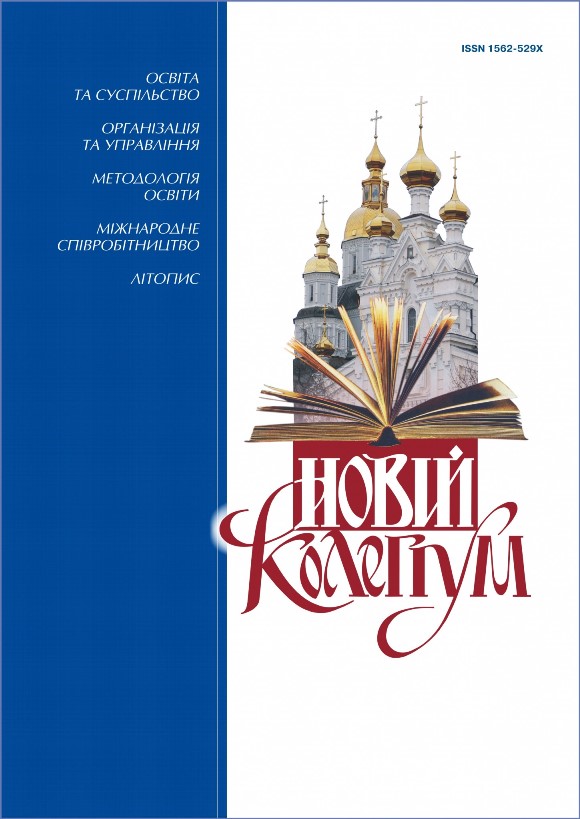 Downloads
How to Cite
Voino-Danchyshyna , O. . (2021). Adult Education: Organizational Approaches Under Uncertainty. New Collegium, 2(104), 67–73. https://doi.org/10.30837/nc.2021.2.67