Student Self-government - an Opportunity to Develop Soft Skills and Build Social Partnership
Keywords:
student self-government, self-government, partnership
Abstract
The article deals with new principles and organizational forms of social work in the context of digital society development. The author attributes the necessity to implement changes in the sphere to a higher level of individualism in the modern society and young people's urge to self-fulfillment and self-realization. The paper reviews most common existing forms of students' public organizations: parliaments, councils, unions and clubs. The author highlights that nowadays they tend to perform the advisory function in education institutions, or their activity is limited to actually being social clubs for interest groups. Frequently, they are not designed to handle strategic tasks education institutions and students communities are facing.
Following the guidelines the new Ukrainian Law on Higher Education puts forward, the author addresses the experience of Kharkiv University of Humanities "People's Ukrainian Academy" in organizing pupils' and students' self-governance, and the practice of its public organizations. The author attempts to analyze how effective the current system is, whether its organizational principles and forms are up-to-date, to what extent they meet students' needs and expectations. The author shares PUA's experience in the work on training and educating youth leaders, explicates how naturally they make up constituent part of the university education and pedagogical system, how successfully they cooperate with other teachers' and pupils' public organizations of the complex of continuous education. A very special attention the article pays to the PUA pupils' organization "ISTOK" and its activities.
According to the author, the secret of public organizations' successful performance lies in team work and cooperation, collective problem-solving, integration of experience and up-to-date approaches to social work.
References
Чибісова Н. Г. Вищий навчальний заклад як середовище формування цінностей студентської молоді в соціокультурних умовах сучасної України : монографія. Харьків : Вид-во НУА, 2004. 256 с.
Чибісова Н. Г. Організація виховної роботи в сучасному ВНЗ (З досвіду роботи приватних ВНЗ України) // Економіка та управління. 2013. №3.С.52–57.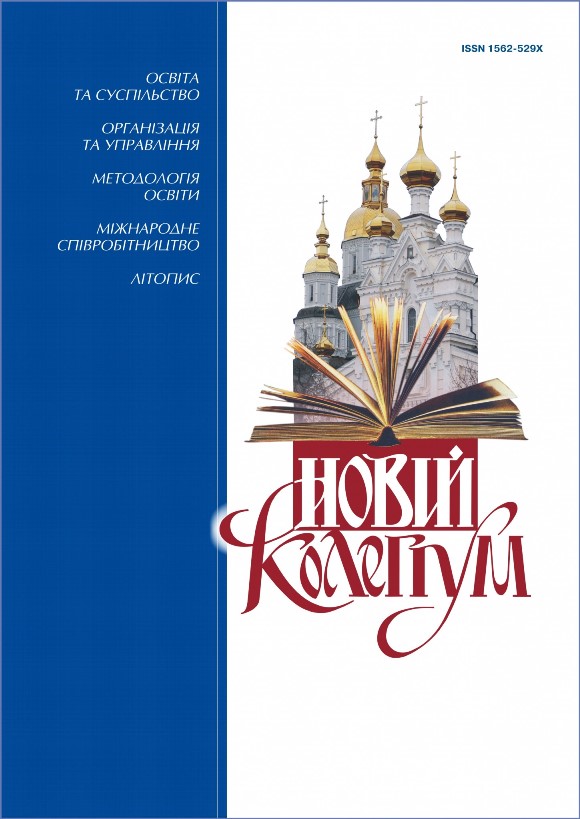 Downloads
How to Cite
Chybisova, . N. . (2021). Student Self-government - an Opportunity to Develop Soft Skills and Build Social Partnership. New Collegium, 2(104), 37–43. https://doi.org/10.30837/nc.2021.2.37