The genetic approach to representation of system of nuclear elements
Keywords:
the genetic approach, chemical elements, atomic elements, periodic system, general systematization
Abstract
The concept of chemical elements is analyzed. Is shown, that instead of it in interscientific practice it is more expedient to use concept of nuclear elements.
The genetic approach to process of development of material systems indicates, that he occurs to law from the past to the future, from simple to complex, from lowest (undeveloped) to highest (developed). These features of development require at ordering material objects to place them in system of coordinates, with which the simple undeveloped objects are placed at the left below, and complex advanced - are placed on the right and above.
Such approach contrary to the standard point of view is a substantiation of variant of ordering of periodic system of atomic elements with accommodation in the bottom of simple and above – complex atomic elements.
References
Електронний ресурс: ru.gaz.wiki./wiki/Alternative_periodic_tables#ADOMAH_(Valeri Tsimmerman,_2006)
Петрова И.А. Эволюция форм графического изображения периодической системы элементов : автореф. дис. … канд. хим. наук. Москва : ИИЕТ, 1985. 24 с.
Леонов В.П. Классификация наук о материальных объектах // Науковедение и информатика. 1990. № 34. С. 60-65.
Леонов В.П. Становление третьего мира реальности // Новий Колегіум. 2017. № 4. С.58-66.
Босенко В.А. Всеобщая теория развития. К., 2001. 469 с.
Чешков М.А. Развитие: философская идея и конкретные исследования // Мировая экономика и международные отношения. 2004. № 8. С. 70-81.
Електронний ресурс: ru.wikipedia.org/wiki/Периодическая_система_химических_ элементов
Бедняков В.А. О происхождении химических элементов // Физика элементарных частиц и атомного ядра. 2002. Т.33, Вып.4. С.915-963.
Горох А.В. Периодическая система химических элементов. Генетический аспект. Донецк : ДонФТИ НАНУ, 2002. 81 с.
Електронний ресурс: scientificrussia.ru/articles/135-let-so-dnya-rozhdeniya-nilsa-bora
Електронний ресурс: nuclphys.sinp.msu.ru/astro/astro14.htm
Трифонов Д.Н. Структура и границы периодической системы. Москва : Атомиздат, 1969. 272 с.
Електронний ресурс: shkolazhizni.ru/world/articles/47658/
Електронний ресурс: fundamental-restarch.ru/ru/article/view?id=2765
Некрасов Б.В. Основы общей химии. В 2-х т. Т.1. Сп.-б : Лань, 2003. 656 с.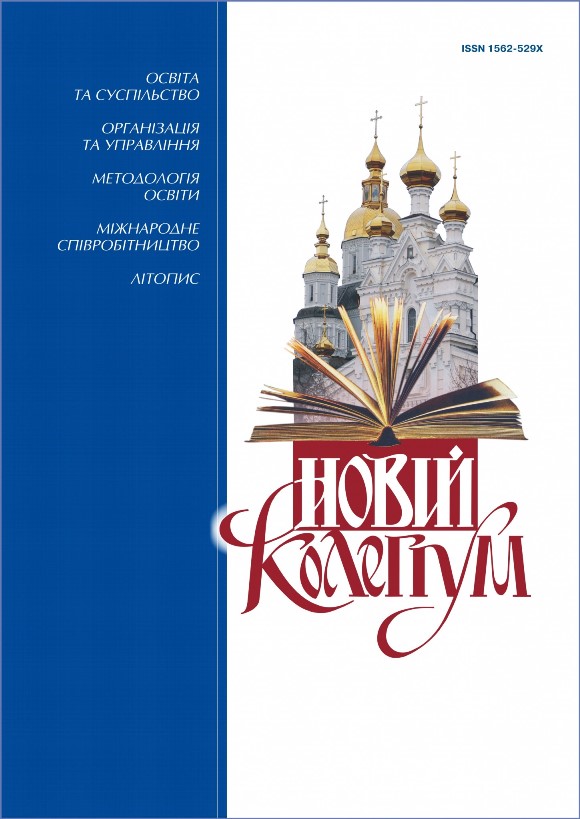 Downloads
How to Cite
Leonov, V. (2021). The genetic approach to representation of system of nuclear elements. New Collegium, 3(105), 54–58. https://doi.org/10.30837/nc.2021.3.54